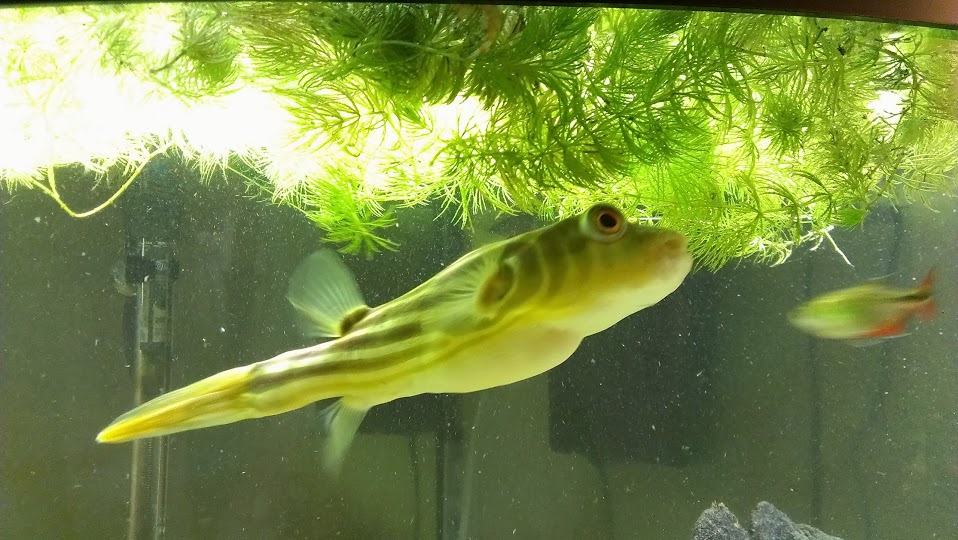 The Fahaka Puffer is a large species of freshwater puffer fish from Africa. They are aggressive and require their own aquarium, but their personality and uniqueness make them well worth the investment. This is one of the most personable aquarium inhabitants. Mine acts more like a dog than a fish! Your Fahaka will get to know you and will look at you through the glass. They will "beg" for food much like a dog and some will even allow you to pet them! (Just be careful you don't lose a finger)
Size:  In the wild the Fahaka Puffer will reach 18+ inches. In the aquarium they rarely get this large. Most specimens will only reach 12-ish inches. Mine is about 3 years old and he is about 10 inches.
Tank Size:  I would suggest an 80 or 90 gallon. Fahaka puffers don't need a ton of room to swim back and forth, but they do need to be able to turn around. A standard 50 0r 55 gallon is only 12 inches wide, so while it would be long enough, a large Fahaka would be cramped. I have mine in a 55 gallon corner tank and he has plenty of room.

Diet:  Fahaka Puffer fish are voracious predators. They are equipped with a powerful "beak" instead of teeth. This beak constantly grows and has to be warn down. For this reason, Fahaka puffer fish should be fed a variety of food including many hard shelled crustaceans. Good food choices for the Fahaka are crabs, snails, and crayfish. They will also eat frozen krill fish, and earthworms.

Temperament and Tank Mates: Fahaka Puffers are extremely aggressive and should not be kept with any other tank mates. They will kill and eat anything they can catch, including fish that are almost their own size. They look at everything as prey. Fahaka Puffers will not "beat up" another fish like a cichlid will. You will have no warning. The Fahaka will kill, or fatally wound the other fish with the first bite. With that being said, mine lives with 3 Buenos Aries Tetras and 2 Julidochromis Marlieri 🙂 The tetras are very fast and are able to stay one step ahead of the puffer. The Julidochromis are rock dwelling cichlids from lake Tanganyika in Africa. They have many hiding places that the puffer can't fit into. They now swim freely about the aquarium with little chase from the Fahaka. It seems that my Fahaka has gotten tired of chasing them and now doesn't try too hard. This same puffer has eaten other fish that were larger than the fish he currently lives with. If you are going to have other fish in with your Fahaka Puffer, just know that they will likely, one day, end up being dinner.
Breeding:  I wouldn't try it. I have heard reports of them being bred in VERY large aquariums. You aren't able to sex Fahakas, so you would have to keep a small group together. Keeping Fahakas together would result in many injuries and possible fatalities.